The Internet has taken the world by storm with so many social networks connecting people globally. Many have risen to fame and are making fortunes through sharing digital content on these platforms. Let's take an example of YouTube, we can all agree that good content goes hand in hand with quality film work. This is what keeps followers glued to those famous YouTube channels yearning for more and more content. For you to have your film work matching the quality of your content, you need a quality camera. We are going to learn more about cameras from a renowned YouTube vlogger, David Dobrik. By the end of this article, you will be having answers to the question: What camera does David Dobrik Use to vlog?
About David Dobrik
David Dobrik is a digital content creator. He made his internet debut through a video-sharing platform called Vine where he posted 7 seconds video. In 2015, he began his own YouTube channel and posted his first vlog. His charming personality quickly shot him to a YouTube sensational star. The content he uploaded was regarded to be light-hearted and child-friendly which saw him winning two Kid's Choice Awards in 2019 and 2020.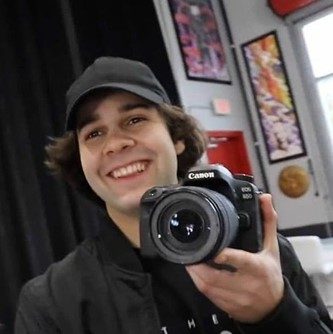 He is a leader of a friends group known as The Vlog Squad which is featured in most of his vlogs. The Vlog Squad has had a rotating cast since its creation. As of February 2022, his YouTube channel had 18.3M subscribers and nearly 7billion views. He later opened a second YouTube channel where he posts bloopers and behind the scenes.
He has further launched a photo-sharing app called Dispo.  But instead, the app turned out to be a perfect forum for frustrated followers to air their concerns pressuring them to be accountable for their actions. This was after his former colleagues and friends came forward accusing him and his vlog squad of bullying and sexual misconduct. During the pandemic, he began podcasts and has also opened another YouTube channel where he posts the video version of these podcasts.
What Camera Does David Dobrik Use To Vlog?
Most vloggers prefer portable and lightweight cameras for convenience since they must move around with the gears always. Bearing in mind the kind of influential social media personality David Dobrik is, there is no doubt that he can have the best camera versions in the market. But instead of keeping up with the camera trends in the market, he has remained with cameras that have worked best for him over time.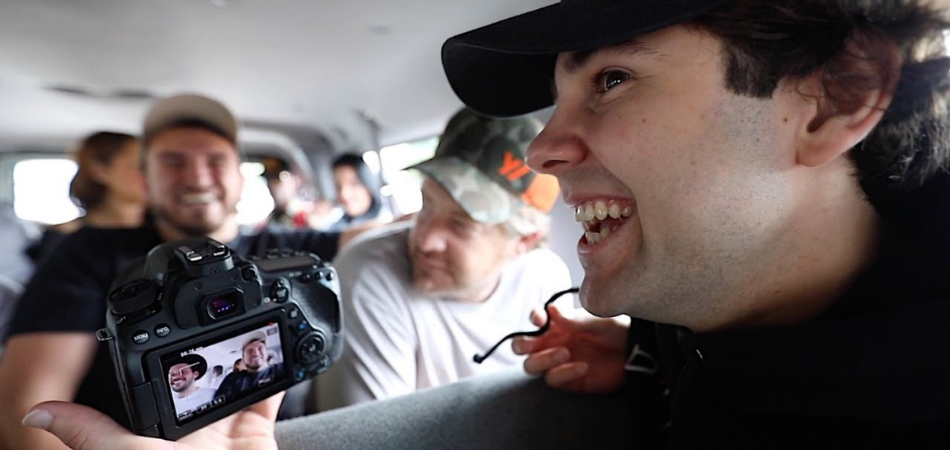 Many vloggers in his position would go for high-end vlog setups. But for him, he has remained with his simplistic approach of applying simple capturing methods using cameras and equipment that are accessible to everyone. His main objective has remained to capture the moment no matter how hilarious, messy, heartfelt, or raw it is. David Dobrik has two camera models that he switches depending on the type of video he is shooting and the recording location. And having used these cameras for some years, we can bet that he has all the features at his fingertips. Now, let us look at what camera does David Dobrik uses to vlog?
It is the main camera used by David Dobrik. It's an incomer after Canon EOS 70D. The 24MP image sensor provides a dual pixel autofocus technique which allows smooth and fast autofocus in live view. Materials used on the exterior and the chassis of this camera allow it to resist moisture, dust, and dirt. It has a touchscreen that allows you to navigate effectively. It is easy to hold due to its lightweight. The hold materials used on this camera and the slightly curved body offer a great feeling when holding it in the palm of your hand.
When shooting fast-moving objects, the viewfinders autofocus works better compared to the live view. It can capture moving objects very fast even in dark places. Also, the 24MP image sensor gives you sharp images. The following are the pros and cons of using this camera:
David Dobrik used this camera for his old videos when he began vlogging. The point-and-shoot feature makes it perfect for beginners and veteran vloggers. The camera captures high-quality videos. The image sensor records super less bright images with an in-built electronic viewfinder. Sony sensors give clear videos and stills. The camera has a lock that allows the pointer to focus on a certain point even when in motion. If you are a fan of David Dobrik, you understand how this feature is important to his vlogs.
The camera can rotate to different angles enabling you to have selfie moments easily and show your face from any angle when vlogging. Also, it has an image stabilizer that helps in reducing motion blur. You can easily connect it to your android or apple phone and upload a video or an image on your platform within a short time. Undoubtedly, Sony DSCHX80/B high zoom point and shoot camera is a good deal for beginners who would like to kickstart their vlogging careers smoothly. The following are pros and cons when using this camera:
What Lens Does David Dobrik Use To Vlog?
The Canon EF-S 18-55mm f/3.5-5.6 IS II lens is one of David Dobrik's go-to lenses for his vlogs. It comes along with all Canon's crop sensor cameras. Its versatility makes it perfect in capturing his run-and-gun life. The portable build of the lens and the wide 18mm focal length make it portable for him to carry around anywhere he goes.
The following are the pros and cons of this lens:
Together with the Canon camera, it serves David Dobrik with the best in whatever he is shooting. The lens has a distinctive four-stop image stabilizer which is very useful when zooming. It's suitable for recording when you want to move while using the camera. The lens can also decrease chromatic aberration effectively when zooming to produce stills that help you capture thumbnails for the videos. However, it is more expensive compared to the kit lens.
The following are the pros and cons of using the Canon 18-135mm:
Are These Cameras the Right Choice for You?
David Dobrik cameras are a worthwhile investment if you are looking forward to professional videos. Though they require a bit of knowledge to work, they are undoubtedly the best for any serious videographer. If you are a social mogul looking to upgrade the quality of your content, these models are the best that you could ever have. But if you are a beginner, consider using a more straightforward camera though you will be deprived of some quality features.
Conclusion
If you were looking to know What camera does David Dobrik use to vlog? As well as What Lens Does David Dobrik Use to Vlog? Now you know better. That's all about his camera setup. Whether you are a beginner or a veteran videographer or a content digital creator, use the best camera that perfectly suits your needs. And just like David Dobrik, your work will speak on your behalf. It is not about the length of your content but the quality, no matter how short the film work is.