Wanna go down the memory lane with those old-school, retro video recording cameras from the nineties? Yes, I am talking about the VHS-C cameras that once almost every household had.
Well, it may sound absolutely a waste of your money when it comes to paying to buy one of these in 2021, but hey, the older they get, the more valuable they become! It's a pretty good choice if you want to impress your buddies and show some vintage footage today!
Believe it or not, you can still find these legendary cameras online, and we have made a list to get you the best VHS-C camcorder right now! The best part is, these are absolutely giveaways if the price is considered!
So, if you are really into classic gadgets, well, fasten your seatbelts!
What Is A VHS-C Camcorder?
VHS-C camcorder is the updated version of the VCR. The devices can easily pop out the tapes whenever you need them. It can shoot up to 250 horizontal lines. The C in the VHS-C refers to compact.
This means that these devices are pretty lightweight and small, in the context of the '80s and '90s when VHS cameras used to be pretty large. Some of these were to be placed on the shoulder to carry and shoot video.
Can You Still Buy A VHS-C Camcorder?
Yes, you can find some of the best VHS-C camcorders even today. A few popular eCommerce sites still have some stock left that you can get hold of. However, the real question is, is it worth it?
There's no proper answer to this question. In this era of smartphones and mirrorless DSLR, these devices are pretty much outdated. But considering the lens quality and battery backup, you can still get some to excite your friends and family, even today.
Table of Content:
Here's what we have discussed in this article. Click on the topic you want to jump into.
Comparison Chart:
Don't have time? Well, here is a comparison chart of the VHS-C camcorders we have reviewed for your consideration.
Top 4 Best VHS-C Camcorder Reviews 2023
After a long search and tiring quest, we have gathered the following vintage original camcorder devices for you. Check out the reviews and pick the one you feel can suit your thirst for analog formats!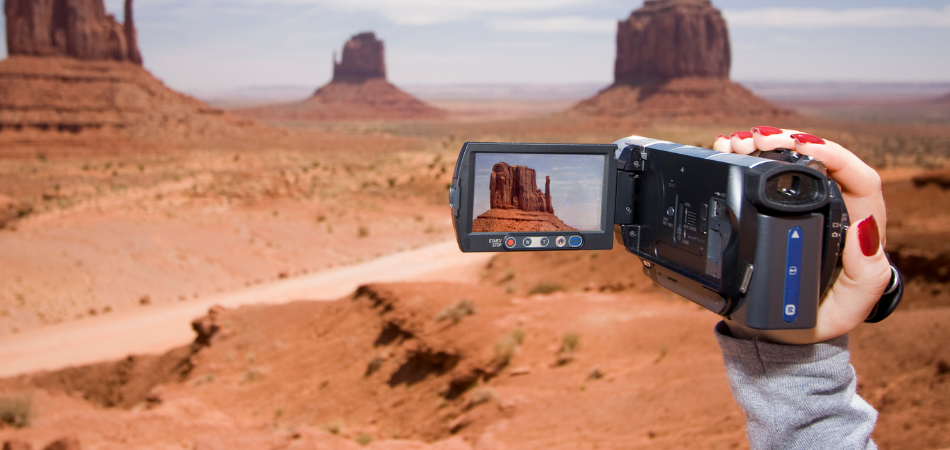 1. Best Budget: Panasonic PV-L501 VHS-C Camcorder
This is a classic device that even money can't buy! Well, yes, literally, as there is hardly any stock available anywhere right now. However, some of the sellers on large e-commerce sites have one or two stocks left, in case you are lucky.
The camera is a gem in its own time. Imagine having a 20X optical zooming option in the eighties coupled with a 150X digital zoom system! That's a high-definition gadget for that time, and even today!
Interestingly, there's a cool LCD monitor on its side that gives you a perfect view of the video being recorded. This means you don't need to attach your eyes to the viewfinder all the time. Moreover, the screen is 2.5-inch, which is pretty decent.
You can easily record clips at night, thanks to its low-light solution – the auto-lighting option. Turn it on when you are shooting in the dark or in a low-light condition; it's going to illuminate it around pretty well.
Another interesting feature is the digital fading system. This makes it really easy for you to set transitions between clips and make it look more appealing for the viewers. Plus, its integrated motion sensor can also track movements for better focusing.
Technical Details
| | |
| --- | --- |
| Image stabilization | Digital |
| Optical Zoom | 20X |
| Digital Zoom | 150X |
| LCD monitor | 2.5 inches |
| Motion Sensor | Yes |
| Adapter | AC Adapter |
Why Should You Buy It?
Having an excellent video signal even in 2021 is nothing to be taken lightly! This is what you get when you get hold of this Panasonic palmcorder.
2. Best Overall: JVC GR-AX760U VHS-C Compact Camcorder
Another masterpiece we have on our list is the JVC GR-AX760U. With its 400X digital zoom capacity, the camera is actually pretty much ahead of its time. It has got a black and white EVF, so it's definitely not something cheap.
With the digital zoom in place, the camcorder has a 16X optical zoom system, as well. Again, its excellent digital stabilization will make sure you don't get a blurry video while you are zooming in. Again, it performs well in low-light and darker environments.
That's because of its enhanced low-light sensitivity. It illuminates the picture for a clearer and brighter view. Again, if you are not satisfied with a shot, just use the digital wipe and fade options to clean it up and re-record it!
For editing the video, the device has a default title setting option. You can choose from multiple languages to set the title from English, Spanish, Portuguese, and French. Having the seven different programmable Auto-exposure modes and special effects make editing even more exciting.
The package comes with a playback adapter, a battery recharger, and a long shoulder strap. It's easy to carry around and very lightweight, too. It's a perfect vintage camcorder to own at this time.
Technical Details
Widescreen: 16:9
Optical Zoom: 16X
Digital Zoom: 400X
Image stabilization: Digital
Low light Sensitivity: Yes
Edit option: Digital wipe and fade
Why Should You Buy it?
As you can easily convert the videos of this device into DVD formats, it's going to be the best choice for you if you are looking for a great aspect ratio.
3. Best For Swivel Shooting: Panasonic PV-L559 Palmcorder Camcorder
Is the Panasonic PV-L559 really that old? Coming out as a top-quality camcorder back in early 2000, it's really not that of a vintage device, is it?  The design and the build quality of the camera do indicate that it's totally fine to have one, even in this digital era.
There're plenty of reasons to pick this one out of the obvious counterparts in the market. The key reasons include its 3-inch swivel LCD screen that can be angled up to 180 degrees. This gives you plenty of room to record the video from different angles.
Plus, you can use the digital electronic stabilization system to make sure the image doesn't get blurry or shaky. Zoom up to 26X optically and 150X digitally to keep track of every detail you need!
The Panasonic PV-L559 has an automatic light system that lights up the environment when it is getting dark. Then again, the motion-tracking technology that comes with the device picks up anyone in the viewfinder and makes sure that they get in the focus of the camera.
Again, this super VHS-C camera is and was pretty much famous for its excellent easy-playback of VHS-C cassettes. It plays pretty smoothly, and the audience will absolutely love it while playing back.
Technical Details
Optical Zoom: 26X
Digital Zoom: 150X
Image stabilization: Digital
Screen size: 3 inches
Swivel angle: 180 degrees
Auto light: Yes
Why Should You Buy it?
Just put blank tapes in it, and let's get creative with its 180-degree swivel angle shooting! It's surely an impressive camera to shoot even today!
4. Best For Stabilization: Panasonic PV-L551 VHS-C Camcorder
Let's wrap it up with another classic Panasonic VHS-C camcorder – the PV-L551. This is also a true camera that was ahead of its time even back in the early 2000. With its amazingly compact profile with fairly lightweight mass, the device is a relevant one still today.
It comes with an impressive 20X optical zoom that allows you to get the details you need. Plus, its 150X digital zoom gives you the freedom to push the limit even further. Thanks to the digital image stabilization option, there's no shaky view even after zooming.
Get rid of placing your eyes on the viewfinder every now and then with the 2.5-inch LCD monitor. It gives you a vivid display of what you are recording and how exactly the frame is capturing the view through the lens.
The inside of your house is darker than usual? Well, no worries! This one comes with a low-light shooting option with its Auto light feature. It illuminates the scene pretty well, which makes it bright when you see it on the VHS-C tapes.
Getting the package, you get a VHS-C Adapter, some VHS-C tapes, and a 2-hour battery pack. It still runs pretty well in 2021 and is a great device to have if you want to enjoy vintage horror films at night with your buddies!
Technical Details
Optical Zoom: 20x
Digital Zoom: 150x
Display: LCD
Screen size: 2.5 inches
Stabilization: Digital
Low light video: Yes
Motion sensor: Yes
Why Should You Buy it?
With a great video signal and a top-quality video head, the device is simply one of the most updated camcorders in its time.
What Should You Look For Before Buying A Vhs-c Camcorder?
Before you step into buying old VHS video cameras, you need to make sure you are paying proper attention to details. Here are some of the key features of a camcorder that you need to keep a sharp eye on.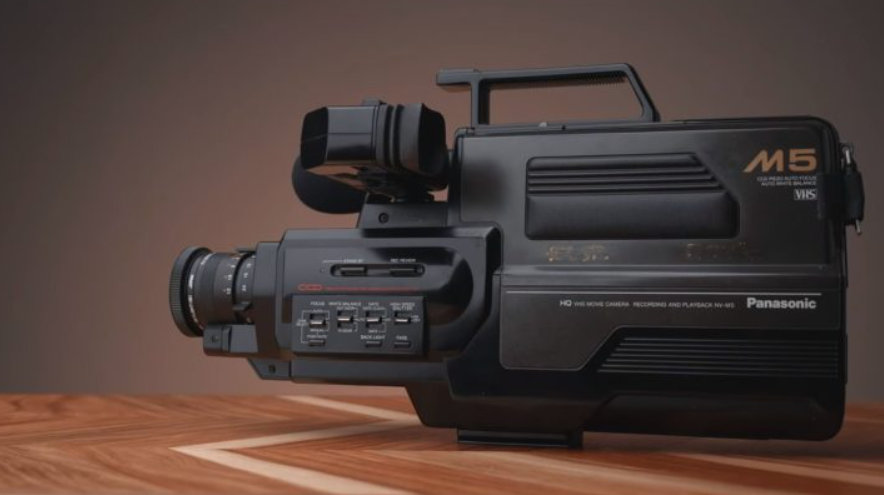 Compact
Many users do tend to confuse VHS and VHS-C camcorders. This is because the C is often not given proper attention. The C in VHS-C stands for compact, which means these are compact versions of an original VHS camera. So, make sure you are not confusing the two, too.
Zoom Option
Most VHS-C camcorders come in both optical and digital zoom systems. Try to settle down for at least 16X optical and at least 150X digital zoom capacity. This will allow you to shoot more lively and smooth videos.
Image Stabilization
One of the vital challenges of these old large-size cameras is that you can't control the shaking. This results in a shaky and blurry video, which is not something anyone would love to see today. So, try to find a cam that comes with digital image stabilization so that you can get a crisp video even if you are zooming.
LCD Screen
The best VHS camcorder will come with a crystal-clear LCD screen attached to the camera so that you don't need to rely on the viewfinder only. Plus, some of the advanced models also have swivel options too, which allows you to shoot from multiple angles.
Low Light Shooting
These old cameras struggle to shoot in low light; this is no new news for anyone. However, some of the best VHS-C cameras do have low-light shooting support with an automatic lighting option. This will make it easier to shoot in darker spaces.
Accessories
Make sure you get all the necessary accessories with the package. These accessories will be very hard to find if some of them are missing. Check all the AV Cable, converters, charging devices, battery house, etc.
Battery Power
Don't forget to check the battery before you buy a camera. Try to check if the battery is working by clicking the cassette slot open. The fact is, most of these 'discontinued by manufacturer' camera batteries come as non-functional nowadays, that you can't take chances.
Frequently Asked Questions
Here are some of the most asked questions for buying a full size VHS camcorder.
Do camcorders use VHS?
In any case, standard VCRs cannot play super VHS tapes, but, as with other formats, a camcorder can act as a VCR and be connected directly to your television or VCR to make standard VHS copies.
What Can I Do With My Old VHS Camcorder?
There's not much to do with an old VHS camcorder today, but you can store it for its vintage and classical value. Then again, you can get one to store for its future value to sell it later, too.
Which is a better, Sony or Panasonic camcorder?
Although both the brands are pretty classic and of top quality, the Panasonic camcorder is somewhat more popular and available even today.
How long can camcorders record?
It depends on the battery life and the VHS cassette's length. Usually, you can record up to 8 to 9 hours.
Do camcorders take pictures?
Camcorders are generally intended to shoot videos. However, there are also provisions for taking still images, as well.
Are camcorders out of date?
Today, digital videography has become quite advanced and pretty much developed. Considering we are living in a hi-tech world today, camcorders are actually outdated, for sure.
Final Thoughts
As it's not the nineties or early 2000 now, it's pretty hard to find the best VHS-C camcorder out of all the options we had back then. However, whatever we are left with today, also offer us some pretty exciting deals.
If you are into getting one right away, we suggest you pick the JVC GR-AX760U for its amazing design and 400X digital zoom capacity. It also has 7 programmable auto-exposure settings that simply make shooting video exciting.
However, you can still pick any of the above-reviewed devices if you want. Then again, you can go search for more on different eCommerce platforms, but keep our buying guide handy with you. It will definitely land you on the right page!