The easiest way to capture beautiful and memorable moments in life is via a selfie. If you want to take attractive selfies in one attempt, you'll need to first learn how to connect a selfie stick to an android phone.
A selfie stick can be wired or wireless depending on the model. If it's wired, the 3.5 mm jack of the cable enters into the headphone port of your Android. However, if yours is a Bluetooth selfie stick, you'll need to pair it with your android smartphone first.
This step-by-step guide offers you the required knowledge on how you can connect a selfie stick to your android smartphone and what to do if the stick doesn't work. So, let's find out.
Do Selfie Sticks Work With All Phones?
It all depends on your choice of the selfie stick. The most sophisticated selfie sticks can handle smartphones, digital cameras, and other related devices. A reliable selfie stick has two interchangeable and extendable phone mounts. Thus, they make fitting big smartphones easier and safer.
Compatibility is the first factor you must consider when buying a selfie stick. A universal selfie stick that works with the Android, iPhone, Windows Phone, Blackberry, and other phones is the best one to buy. On the other hand, a cheap selfie stick might have poor quality, which can affect the stability of your Bluetooth connection.
How To Connect Selfie Stick to Android Phone?
We are about to reveal how to connect a selfie stick to an android phone. We will also explain the reasons why you might fail to accomplish the process.
Connecting a wired selfie stick is fairly easy. All you need to do is just insert the jack inside your smartphone's headphone port and you're good to go.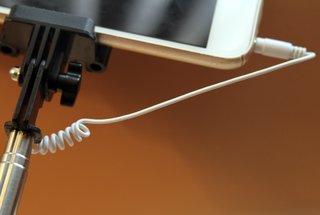 And here is a step-by-step process of how to connect a wireless selfie stick to an Android phone.
Step 1: Plug-In Your Selfie Stick To Charge
We are assuming you have a wireless Bluetooth selfie stick already. So, the first thing is to charge it. If yours is still in its delivery box, remove it carefully for charging. It is a pretty delicate thing so you need to handle it with care.
There will be a USB cable in the delivery box for charging and recharging the stick battery.
So, insert one end of the USB cable into the stick and the other end into the USB charger slot of your Android. You can charge it from a PC too.
Most selfie sticks charge within an hour or two. Check what the manufacturer says about the maximum charging time for your stick battery. Like your new phone battery, a new selfie stick battery needs to charge fully the first time you use it.
Step 2: Switch On Your Wireless Selfie Stick
The next step in how to connect the selfie stick to an android phone entails switching on the selfie stick.
Check the manual book to find the switch ON/OFF button. As there are several selfie sticks online, each model is unique. So, switch the button on after locating it.
A blue LED light is the key indicator that your Bluetooth selfie stick is ready to connect to a new or existing device. The same light might blink throughout when connecting the stick to an Android phone. This may vary depending on the model you have. But, most selfie sticks keep the light flashing throughout.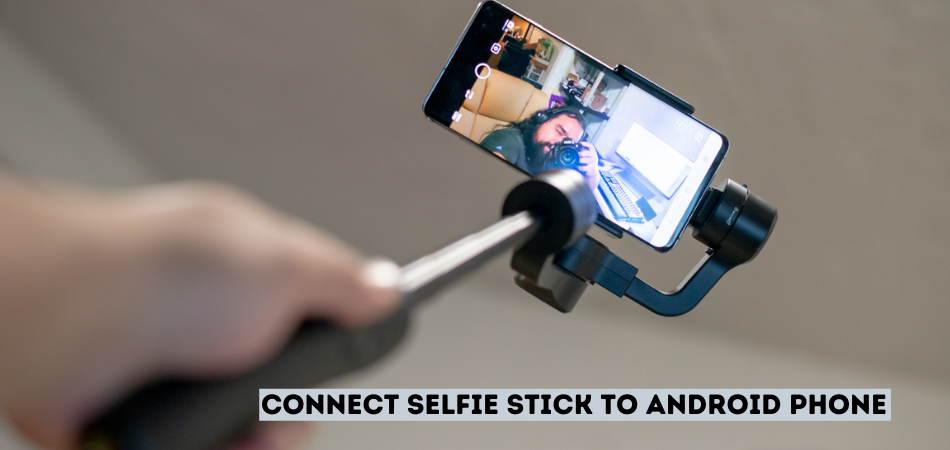 Step 3: Pair Your Bluetooth Selfie Stick With Your Android Phone
Put your wireless stick into a pairing mode via the Bluetooth option of your Android phone. The same blue LED light will keep blinking.
So, under the Bluetooth option, touch Search for New device. It is if you are doing this step-by-step procedure for the first time. Search for the name of your selfie stick on a list of devices that pops up. Touch its name to connect your wireless selfie stick with your Android.
If you have tried this procedure before, the device will recognize that. Therefore, turn on the Bluetooth of your Android and that of the stick. Then, click on the name of the selfie stick on the list of found devices.
Now that you know how to connect your phone to the selfie stick, you can shoot photos and videos.
Step 4: Mount Your Android Phone In The Selfie Stick Holder
You need to attach your Android phone to the Selfie Stick holder. All selfie sticks come with a holder. So you need to locate it and follow instructions to use it correctly. Do not exert excess force on it as it can break.
Release the bracket after successfully mounting your phone.
Confirm that your Android fits snugly to protect it from slipping and falling. At the same time, ensure the fit is not too tight to detach your phone easily after capturing selfies.
It is easy to ensure the phone fits well in its holder because most modern selfie sticks have extendable holders. These holders can hold smartphones of all sizes. You can also connect the selfie stick to iPhone and other mobiles the same way.
Step 5: Extend Your Stick According To The Photo Shooting Requirements
Not all photo shooting and video shooting conditions are similar. You may have to extend your selfie stick to match your shooting conditions.
Place one hand on the bottom holder and the other one on the top holder. Next, pull the stick from the top or the bottom to suit your requirements. You can only stretch the selfie stick up to the maximum extendable length.
Step 6: Capture High-quality Selfies
You can take higher-quality images with a selfie stick and your mobile phone.
As you capture photos and videos, they will enter your Android phone's gallery area. So you do not have to manually capture and then save a photo.
Once you finish the process, remove your Android phone from the mount and access your selfies.
What Do You Do When Your Selfie Stick Is Connected But Doesn't Work?
As you can see above, it is easy to learn how to connect a selfie stick to an Android phone. Nonetheless, you should carry out the process and know how to deal with the challenges that might arise.
For instance, the Bluetooth selfie stick may not work even if connected. It may work the first time after the connection and then refuse to work the next time. In such a situation, what should you do? Consider the following scenarios: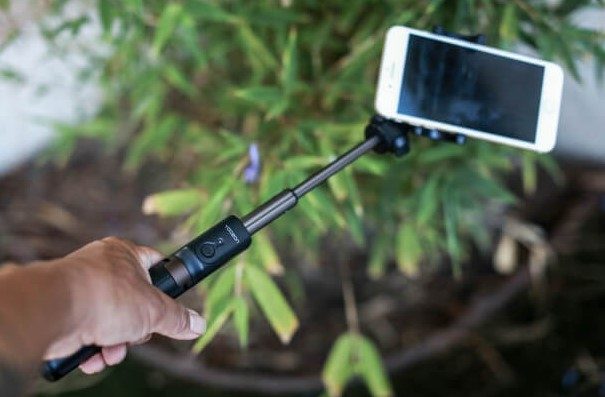 Is something wrong with the Bluetooth function of your Android or Selfie stick?
If something has ruined your Bluetooth option in your Android, the connection with the selfie stick will be incomplete. It would be hard to pair selfie sticks with iPhones and other phones also.
Have you depleted the charge on your selfie stick battery or phone?
None of these gadgets will work with a dead battery. So check if the selfie battery has enough charge before connecting it with your Android. Needless to say, your Android phone battery should have enough charge.
Is it possible that you have accidentally turned off the Bluetooth function of your Android or selfie stick?
Both functions should be active for the process we have described above to work. No matter how hard you try, you cannot establish a connection between the devices when one has switched off Bluetooth.
What if the Bluetooth versions of the two devices do not match well?
Compatibility is vital when choosing a selfie stick for sale. Read the product description and specification area before ordering your selfie stick.
Are you even sure of the connection between your selfie stick and Android?
The blue LED light should blink repeatedly if your selfie stick is ready to connect to a device. If it fails to flash, there is a problem.
Have you connected the Bluetooth of your selfie stick to another device?
Selfie sticks cannot work with two or more device connections simultaneously. So, check if there is a connection between your selfie stick Bluetooth and another gadget and disable it.
Lastly, you are probably using a low-quality selfie stick model for Android. Save money for a high-quality universal stick for all devices.
Final Word
Before I end this article, do you know how to connect a selfie stick to an Android phone now?
If you carry out the procedure well, the connection between the two devices will work. Make sure you buy a premium quality selfie stick for Android and other phones you use. Also, make sure that the Bluetooth feature is active on each device to avoid disappointments.
In addition, charge the batteries of both devices before you start the steps we have explained above. Now go on take the most stunning selfies and videos and show them to your friends.