First thing's first, car photography isn't for everyone. It's not easy to tell the story of a beast you ride through a single still image. That's the challenge a professional photographer takes and overcomes most of the time.
But it's not the skills that get to take all the credits away. A veteran warrior is nothing without his signature weapon. That's also true in the case of a car photographer. Unless you are well-equipped with the best car photography camera that syncs with your skill-set, you are ready to roll!
So, which one is the best one out there? That's a tricky question we have attempted to answer here today. We have dug out some of the best and most advanced cameras for car photography, just for you.
Excited? Let's hop in! 
Do You Need A Special Camera For Car Photography?
To answer in simple words, no, you don't need a special camera for car photography. Any good-quality DSLR or mirror less camera is enough to capture some of the most stunning photographs of a car, moving or still.
However, what you need to make sure, is that the camera is well-built with a powerful CMOS sensor, high shutter speed, smooth lens adjustment system, autofocusing capacity, and burst mode to get the most out of car photography.
How Do You Take A Good Car Picture?
How to take a good car picture depends on a lot of issues. If you are taking pictures of a still car, the plans are going to be different than the plans of capturing images of a moving one. So, in general, here are some tips that you can use.
Try to consider the background of the car. Most cars are bright in color, so if not chosen with a contrasting background, the true color won't be represented in the photo.
If you are shooting outdoors, consider the color of the car. Some vehicles have colors that may reflect the sunlight. So, adjust the balance of your camera accordingly.
Make sure there's no reflection from the car's shining part. It will ruin the image.
For outdoor shooting, choose a day that has bright daylight.
If you are taking photos of a moving car, make sure you are using a camera with high shutter speed; otherwise, it will blur the photo. 
Table of Content:
Don't have time to go through all the topics on review cameras for cars? Pick the one that interests you and jump right into it.
Comparison Chart:
Here's a quick comparison chart of the cameras that we have reviewed here today. It will make it more convenient for you to decide which one to pick at a glance!
8 Best Car Photography Camera Reviews 2023
After skimming through the market and battling the surge of new and old models of top-notch cameras, we have carefully picked the following 8 cameras for car photography. Read till the end to find out what we have unearthed for you!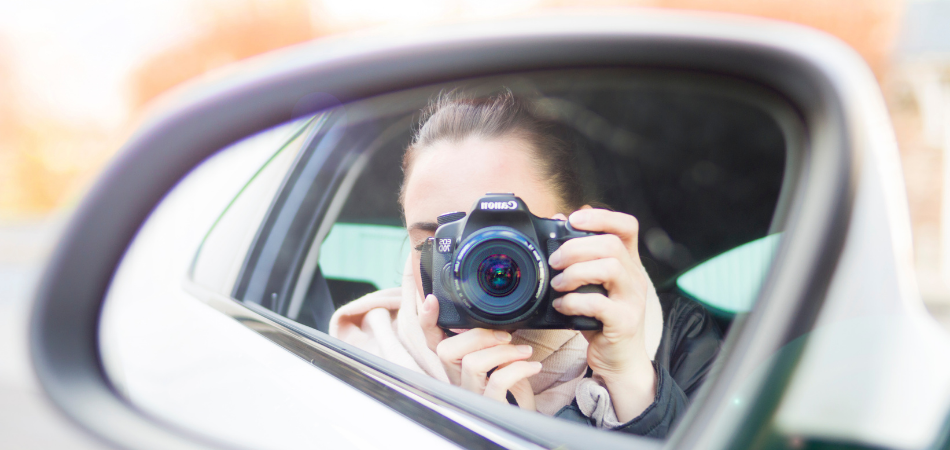 1. Best For Videography: Nikon D850 FX-Format Digital SLR Camera
Let's start with the Nikon D850, a leap of excellence from the previously designed – D800. Nikon managed to offer some of the best features that every car photographer needs, from excellent focusing technique to outstanding control.
It is equipped with the newly designed back-side illuminated CMOS sensor that comes with a full-frame FX format. It offers a staggering 45.7 megapixels resolution, giving you the opportunity to catch every frame with utmost clarity and quality.
Interacting with the device is pretty easy and straightforward. The display is pretty much touch-responsive and shows zero lag when tapped on it. Plus, it can be tilted to certain angles to allow easy vision from multiple sides.
Apart from the still imagery, the Nikon D850 is an amazing device for videography, as well. You can shoot from 4K to 8K video with timelapse settings. The best part is, you can shoot 1080P videos at 120 FPS, which results in a crisp and high-definition professional video.
Sharing the files with your other devices is quite easy and simple. Nikon has its patented SnapBridge app that can easily bridge between the camera and your phone. With a few taps on the app, you can quickly transfer the photos and videos from the camera to your other devices.
Technical Details
Resolution: 45.7 MP
FPS: Up to 120 FPS
Screen size: 3.2 inches
Wireless Setting: BuiltIn; 802.11b/g + NFC + Bluetooth 4.1 LE
Focus: Manual and auto
Photo Sensor Size: 35.9
Conclusion
If car videography is as vital to you as still photography, the Nikon D850 is a prime choice you can avail yourself of right now!
2. Best For Burst Photography: Panasonic LUMIX G7KS
Pushing your limits with newer technology is one way to ensure the best result for your car photography. That's why it's even better to go for a mirrorless camera than a DSLR IF YOUR BUDGET ALLOWS.
Introducing the first mirrorless camera on our list – the Panasonic Lumix G7KS. This top-notch mirrorless camera is what you need if you are going to get beyond car photography. Its 16 MP sensor houses the next-gen intelligent processor that offers truly picture-perfect images and videos.
It can shoot videos in 4K mode, with three different options in your hand. You can shoot in bursts, burst s/s, and pre-burst modes for different types of video shooting, from continuous recording to start and stop burst.
The best part is, you can shoot a 4K video first and then get the best frame extracted as an image. This eventually gives you a 4K image that is really hard to capture on different high-end cameras out there.
Its view-finder is also pretty much a stand-out from the crowd. The resolution counts up to 2360-dots along with 10000:1 contrast that gives you higher visibility for clear assessment. Even under direct sunlight, you can pretty clearly see what you are going to capture.
Technical Details
Weight: 0.90 lbs
Sensor Resolution: 16 MP
Optical Zoom: 3X
Style: 14-42mm
Screen size: 3 inches
Cont shooting speed; 7
Photo Sensor size: four thirds
Conclusion
If you are looking for an entry-level mirrorless camera for brilliant car photography and videography as a whole, this one is a perfect fit.
3. Best For Fast Autofocus: Canon DSLR Camera [EOS 90D]
Who doesn't want to have the sleek look of a rushing car? Looks fabulous on posters and wallpapers, right? Well, you need special cameras for that kind of photography. If you are looking for something like that, the ESO 90D from Canon is the go-to device you should consider.
It comes with a powerful 32.5 MP APS-C CMOS sensor. Coupled with a DIGIC 8 processor, the Canon EOS 90D is capable of capturing clear and crisp images on the go. For video recording, it offers a UHD 4K resolution option with a 30 fps frame rate, which is also massive.
The best part is its Cross-type AF option. You can count up to 45-points on the viewfinder, depending on the lens you are using. It enables you to focus on the subject without having to set up complex settings precisely. The AF system can automatically freeze fast-moving vehicles.
Its shutter is designed with an excellent electronic 1st-curtain technique that offers to grab the precious moments at a speed of 1/80000 second. It completely eliminates the risk of blurred and shaky images of any sort.
Interestingly, the device supports the EOS webcam facility. Using this option, you can turn the camera into your primary webcam in seconds. Moreover, sharing the images through Wi-Fi is also a piece of cake when you have this device in your hands.
Technical Details
Resolution: 32.5 megapixels
Optical Zoom: 0X
ISO Range: Auto, 100-25600
Weight: 1.32 lbs.
Cont. Shot: 10 frames per second
Video resolution: 2160p
Conclusion
Looking for something that can catch the rushing supercar? The Canon EOS 90D is the perfect choice for this, without a doubt!
4. Best Image Processing: Olympus OM-D E-M10 Mark III Camera
If you're not into using Canon or Nikon for some reason, Olympus can be a great alternative. Take the OM-D E-M10 Mark III, for example. It's one of the very best options you have in the market, despite battling hard against brands like Canon, Panasonic, and Nikon.
It's a stand-out device for multiple reasons, which includes an excellent image stabilization system. The 5-axis stabilization process ensures shake-free still pictures and spectacular 4K video. So, enjoy smooth pictures without any blurry results!
Inside the top-notch device, there's a live MOS sensor that comes with a resolution of 16 megapixels. Coupled with a TruePic V3 image processor, you are sure to get stunning pictures every time you push that shutter.
Interacting with the camera is pretty much straightforward and simple. You've got a 3-inch touch screen display that's ultra-responsive to your touches. Tilt the screen to a certain level to give you a comfortable viewing position.
Focusing on the digital screen is quite easier than you have ever felt. Simply touch on the area you need to focus on, and it's that simple and easy. Apart from all these features, the camera has 15 different art filters that can readily give you an exciting default look for your subject.
Technical Details
Resolution: 16 MP
Screen size: 3 inches
Image Stabilization: 4 EV
Cont. Speed: 8.6 fps
Weight: 0.90 lbs
Optical zoom: 1X
Conclusion
If excellent stabilization is the key to your car photography, nothing else can satisfy you other than the Olympus Mark III.
5. Best Image Stabilization: Fujifilm X-T4 Mirrorless Camera
X-T4 from Fujifilm is the recent addition to the X series of their lineup of mirrorless cameras. This imager uses an (APS-C) X-Trans CMOS 4 sensor that allows you to grab the special moments in 26.1 megapixels resolution.
But that's not the best part of the X-T3. Its IBIS stabilization system is what steals the show. The in-body stabilizer is a 5-axis design that can capture a crisp and sharp image even if your hands are prone to shaking while taking photos. Coupled with the 4-axis digital stabilizing technique, you can easily move around without any risk of blurry results.
The LCD screen on the camera is highly responsive and well-designed. It features 1.62 million pixels that give it a vivid and lively display. You can feel the touches come alive while you press your fingertips. Moreover, you get to move the screen in different directions to get a good viewing angle.
Apart from the screen, the viewfinder on the top gives you the neat view you need. It comes with 3.69 million pixels/ 100 frames per second to allow you to feel no difference between actual scenarios and what you see through the viewfinder.
The X-T4 is equally capable of producing high-end videography, as well. It can record at Full HD at 240P and 4K at 60p. The best part is, the mechanism allows it to track the subject automatically to keep the focus.
Technical Details
Optical Sensor Resolution: 26.1 megapixels
Photo Sensor Size: APS-C
Video Capture Resolution: 2160p
Lens mount:  FUJIFILM X mount
Extended output sensitivity: ISO80/100/125/25600/51200
Exposure compensation: -5.0EV~+5.0EV 1/3EV step
Conclusion
Never expected Fujifilm to come out with such a powerful stabilization system in a mirrorless profile? Well, prepare to get surprised with the XT-4!
6. Best Compact Camera: Sony Alpha a6400 Mirrorless Camera
Another professional-grade mirrorless camera from Sony is the Alpha a6400. Apart from the fact that it is quite handy and compact in its making, the device is pretty lightweight. It weighs just over a pound and can be easily carried around without feeling much weight.
It is powered by an Exmor RS CMOS Sensor that is back-illuminated, as well. Together, the camera offers a 20.1MP resolution that captures the best image possible. Then again, it has a wide aperture of 24-70 mm, leading you to catch a better view of the scenario in front of the lens.
To make it even easier, the LCD Screen comes with a flexible setup. You can easily tilt it up to 180-degree to set the camera in the best position. This way, you can place the camera at whatever position you like and get the most suitable angle to snap.
Another feature that you will definitely appreciate is its Real-time tracking system. While shooting a video, the focus on your subject will not deviate, even if the subject is moving fast and quickly.
Speaking of shooting video, the Sony Alpha a6400 can record at 4K  with a QFHD of 3840 X 2160. As for Full HD, it can shoot at 120 fps, giving you the smoothest video recording you can get. As for the slow-mo filming, you can record at a 5X slow motion for a cinematic look.
Technical Details
Resolution: 20.1 mp
Sensor: Exmor RS CMOS sensor
Weight: 1.70 lbs
Sensor Size: APS-C
Autofocus speed: 0.02 sec
Conclusion
Sony has been in a leading position with their top-class cameras with Exmor RS CMOS Sensor. The a6400 is just the suitable one you need for excellent focusing and tracking.
7. Best For Low Light Photography: Canon EOS 5D Mark IV
Canon comes with a blast with EOS 5D Mark IV full-frame camera. Having a CMOS sensor with 30.4-megapixel full-frame setup, you can make sure you are not cropping out anything vital out of the landscape.
The 5D Mark IV performs equally on different lighting systems. As it features a wide ISO range of 100-32000, it can easily adjust the image in any given environment. Day or night, the picture is going to be simply marvelous.
If you don't want to miss the perfect frame and shot, you can choose the 7 fps shooting option. It will capture 7 different frames in burst mode. Pick the perfect one among the 7 to make sure you have got the best one you need.
With 61 AF regular and 41 cross-type AF points, autofocusing on the Mark IV is simply the coolest thing you will notice. You can focus on your subject rather effortlessly, and it will automatically track the subject's movement for better focusing. The Dual-pixel CMOS AutoFocusing helps a ton in this case.
Apart from shooting at 4K, the camera can also be used as a webcam. It uses beta software that's available on both Windows and Mac platforms. You can use it to convert the camera into a high-definition webcam to live stream, as well.
Technical Details
Resolution: 30.4 megapixels
ISO: 100-32000
Burst Photo: 7fps
Cross-type AF points: 41
Screen size: 3.2 inches
Weight: 1.76 lbs
Conclusion
Having 61 AF points and 41 cross-type points is something extraordinary for a camera at this price range. It's truly a masterpiece for car photographers!
8. Best Powerful CMOS Sensor: Sony a7 III ILCE7M3/B Full-Frame Mirrorless
Let's call it a day for our quest for the best camera for automotive photography with the award-winning Sony a7 III mirrorless camera. Being mirrorless, the camera has already shredded some of its bulky weight and is quite lightweight.
It works with a 24.2 Exmor R CMOS sensor that comes with a brilliantly designed structure that's back-illuminated. It's combined with the BIONZ X processor to make sure you are going to capture the best photo you want.
Apart from the crisp images with lights on, the camera can perform quite well in low light, as well. With its ISO range from 50 to 204800, you can brighten up the image without sacrificing quality in any sense.
The battery inside is a pretty powerful one. You can take more than 600 shots using the viewfinder or more than 700 shots on the LCD with the battery being fully charged. As for videography, you get to record over 200 minutes of continuous shooting on this device.
The best part is, the camera can be easily connected to your smartphone (Both Android and Apple) via software with Bluetooth. It makes image and video sharing very easy and straightforward.
Technical Details
Resolution: 24.2 megapixels
Weight: 1.44 lbs
Optical Zoom: 1x
ISO range: 50 to 204800
Sensor Size: Full Frame (35mm)
Video Resolution: 2160p
Conclusion
It's always safe and great to go with an award-winning device, right? Sony a7 III mirrorless camera is such a camera to go for without reaching the end of your pocket!
Things To Look For When Buying A Camera For Car Photography
Picking the best camera for taking pictures of cars is not an easy thing. In fact, car photography itself is a challenging job that can be pulled off hardly by any commoner. You must ensure that you have the right gadget for this purpose. Here's what you need to have a look at while buying a camera for car photography.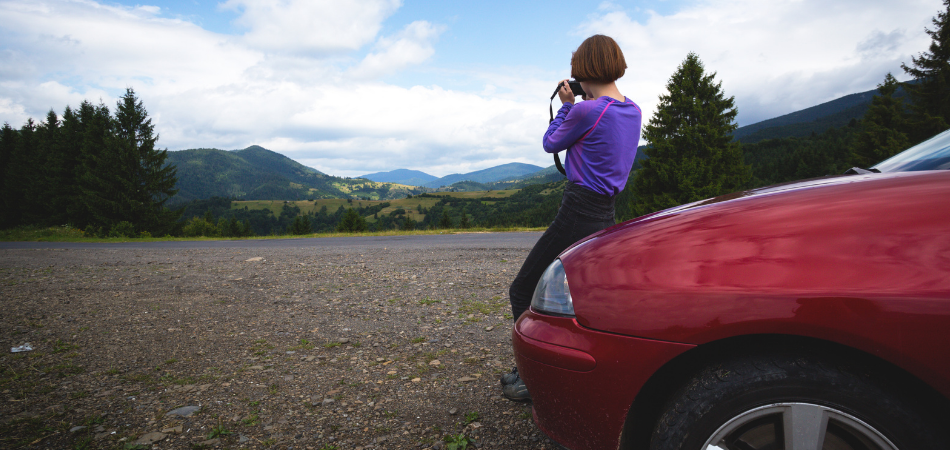 Camera Type
It's crucial for you to choose between mirrorless and DSLR cameras. Although for the beginners, the choice won't make any difference, professionals may want to have a look at which one to go for. Mirrorless will give you a better handling experience as it comes as quite lightweight compared to DSLR.
However, this doesn't mean mirrorless is better than DSLR. It's just the way both function. Even if the whole market is now shifting towards mirrorless, DSLR still has its place as the best single reflex lens camera. If you have a better budget, going for mirrorless will be the smartest decision.
Resolution
You definitely need to capture all the glow of the car from every single point. That's why the camera needs to have a good resolution sensor. Try to pick the camera with a minimum resolution of 20 megapixels for the best output.
Laps Photography
It's not always going to be a set of studios to photograph a car. You will need to get a good grip of a moving car at times, as well. For this, you have to have a camera that can photograph in burst mode. This way, you can click 7 to 10 photos at once and can pick the right image that you are looking for from these clicks.
Image Extraction
The above purpose can also be served if the camera has an image extraction system. This way, you can shoot a video at 4K at 30 to 60 fps and later pick a frame that suits the need of your still image. This way, you can make sure that you are getting a blur-free and shake-free image.
Autofocus
Another vital feature of the camera is the autofocus system. The faster the lens can focus on your subject, the better it is. The best car photography camera will come with 40 to 60 points of Autofocus on it to track the subject within a split second. It will make your photography way easier and smoother.
LCD Screen
It's not the viewfinder you are going to depend on all the time. Make sure that the LCD is responsive enough to serve you its purpose. Plus, it should be touchscreen for better communication and be able to tilt at different angles for the best position you want for the subject.
Sharing Option
It's the PC or laptop that you are going to edit the photograph eventually. That's why if you can wirelessly transfer the photographs to your PC or laptop, it's going to be great. There are some of the big brands out there that offer super-responsive apps that can integrate the device to your PC and even smartphones. So, have a keen look for it, too.
Frequently Asked Questions
What is a good lens for car photography?
Luckily, you don't have a fixed lens type for car photography. A prime lens can be a good starter, but using a zoom lens can be great for exterior photography. As for the interior of the car, a wide-angle lens may give the viewer a better perception of the interior. So, choosing a 50mm lens won't be a bad deal.
What is the best shutter speed for moving cars?
You need a fast shutter speed for capturing moving cars in your camera frame. So, it's best if you can settle down for at least 1/1000 shutter speed, as it is pretty fast and accurate. This will slow down the speed of the car for you, and you can get the best moment captured pretty easily.
Which Camera brand manufactures the best digital cameras?
There are tons of top-class brands producing the best-quality digital cameras for car photography. You can easily pick and choose any camera from Nikon, Canon, Fujifilm, Sony, etc.
Do more megapixels mean better photography?
Higher megapixels will definitely give you a better picture in a general sense, but it's not everything. The field control and APS-C sensor are also equally crucial to produce a good-quality picture.
Is Wi-Fi connectivity required?
Yes, although it's not a must-have feature, having Wi-Fi connectivity on your camera can make it super-easy to share your photos with your PC, laptop, smartphone, and other gadgets.
Final Words
As you can see, choosing the best car photography camera isn't as easy as you thought, is it? There are countless parameters to consider before picking one and start clicking! However, the 8 cameras that we have picked are simply some of the best out there that you can definitely rely on blindfolded.
If you are looking for a go-to camera for your car photography, we suggest you pick the Nikon D850 FX-Format Digital SLR Camera. This one is a perfect choice if you are looking for a powerful CMOS sensor and autofocus system. It can also shoot at 8K mode, which is kind of rare in this field.
If you are still into hunting, keep our buying guide handy. It will definitely land you on the right page!