Do you still regret that special moment when you caught the largest carp you ever hooked and nobody believed you? Do you wish you could capture that precious moment to show your pals? Well, that's why bagging the best camera for carp fishing while getting out in the water is crucial.
Today, we are going to exhibit 6 cameras with stunning image quality that can take your fishing photography to the next level. Yes, you can get a shot with your phone, but the crispy quality and depth of field you get from a professional camera is unparalleled and gives you simply better quality. Having camera with you while fishing will bring your fishing experience+ to a new height.
So, without further ado, let's dive in!
Types Of Cameras
Generally, there are multiple types of cameras that you can use for carp fishing photography. Here are some of the usual options.
Smartphone Camera
Yes, you already knew that it was coming. Today, smartphone cameras are slowly replacing the everyday camera we had back in early 2000. It's compact, readily available, gives you nice image quality and comes with many options in some of the high-end devices. You can easily use a smartphone for this job without a doubt, given that the camera system doesn't suck. Though the sensor size is not as big as DSLR cameras. So, the depth of field you will great comparatively lower.
Digital Camera
Another option you have is the digital camera. Although it's something the smartphone camera has already replaced, it's still a good choice if you don't want to involve your smartphone in this. Most digital cameras are not waterproof, so it's a bit risky using this type of camera for this purpose. However, they can give you some quality pictures.
DSLR
This is the ideal type of camera to use for Carp fishing. However, a DSLR is usually a professional camera that will come at a higher price than any other cameras in the market. Plus, it will involve a lot of advanced settings that you need to make sure you can use. If you manage to do so, you can get some outstanding fishing picture from it. Also, you can take amazing fishing videos using a DSLR camera.
Mirrorless
The latest addition to the camera industry is the Mirrorless camera, which is basically an upgrade from the DSLR. It's slimmer as it has removed some of the inner parts that DSLR has, and comes at a way higher price than the DSLR. If you are taking Carp fishing photography very seriously, it's a choice you can make. The battery life of mirrorless camera is not up to the mark so, it would be wise to get one or two extra batteries, as well.
Do You Need a Special Camera for Carp Fishing?
Although it may not be quite convincing to many that will need a special camera for Carp fishing photography, however, this is not entirely true. Yes, you can always make sure that you are getting a good capture with any camera you take with you.
However, as you are going to exercise your photography skills on a boat while catching some Carp, it's never going to be easy. It involves reducing the shaking, waterproofing and also keeping the different lighting options in control to get decent photos.
That's why the best camera for fishing photography would be something that can easily mitigate shaking and safeguard the camera from dust and water. A camera that can function well even in harsh conditions. Plus, a low-light image processing system should also be an integral part of such a camera. Having all these features will help you to get excellent image quality.
Considering these issues, yes, you need a special camera for Carp fishing.
Table of Content:
You don't need to surf and lose yourself in the ocean of data here. Simply click the topic you feel interested in and jump right into the details.
Comparison Chart:
It gets way easier if you can compare the cameras in one go. That's why we have made the following comparison list for your quick judgment.
6 Best Camera for Carp Fishing Reviews 2023
Our team spent over 24 hours searching for the most suitable photography cameras that let you capture crisp photos of your carp fishing. After reviewing chunks of cameras, here's what we have managed to list down.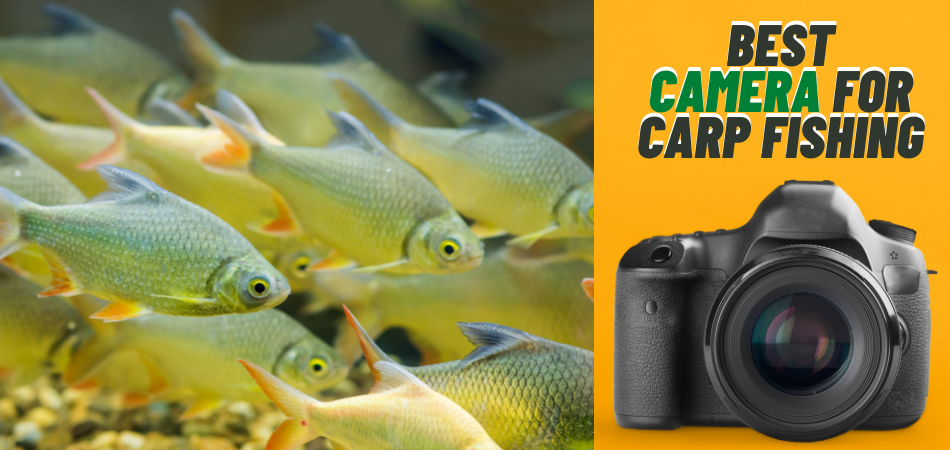 1. Best For Video Shoot: Sony Alpha a6500 Mirrorless Digital Camera
The quest to find the best camera for Carp fishing pictures can't possibly be kicked off without picking up one of the most advanced digital cameras to date. Introducing the Sony Alpha a6500 mirrorless camera for crystal clear and crisp image processing.
This 24.2 MP camera is built with an APS-C Exmor CMOS sensor that is pretty different than its regular counterparts that's going to deliver you magical images. It holds copper wiring that allows the device to reduce the wiring depth that eventually boosts the collection of light inside. This gives you a better view of the image being processed.
The best part is, the camera comes with a 4D focus system that is arguably one of the fastest autofocus systems currently. It takes only 0.05 seconds to focus on a subject that is actually lightning fast, to be honest. You get sharp focus on this camera so continuous shooting is a no brainer now. Then again, if you want to change your focus, all you need to do is simply tap on the touchscreen, and it instantly shifts the focus. Making the background blur is a lot easier now so, you will get good quality bokeh images.
Apart from the 14-bit Raw and detailed output for still images, the camera allows you to shoot video at 120fps full HD mode. The quality of video from this camera is just mind-blowing. So, if you want to make a documentary out of your success with the reel, go for it!
To add to the convenience, the camera is also compatible with a range of A-mount lenses from Sony. But that's not all; you can also use other third-party lenses, as well, given that these are compatible and certified by Sony. If you just have a look at amazon customer review of this camera you will realize how popular it is. You might want to get an extra battery with it as it lacks battery power.
Technical Information
Sensor: 24.2 Megapixels
Processing: ISO 52.200
Autofocus: 4D
Focus time: 0.05 seconds
Video shoot: 4k
Video fps: 120
Final Thoughts
Looking for something that can shoot at an incredible frame rate alongside crisp images? This one should be a perfect choice for you!
2. Best Compact: Panasonic LUMIX G7 4K Digital Camera
If you are looking for a truly professional camera for capturing decent photos of your invaluable moments for a long time, consider the Lumix G7 4K mirrorless camera from Panasonic. Offering you the latest technology in photography to give you fabulous image quality. With its top-class 16 megapixels image-processing capacity, never miss a chance to engrave the sweetest of memories.
Its micro four-thirds sensor comes with a zero-low pass filter option that can easily process crystal clear and crisp photos. It offers a pretty well-defined imaging service with a higher dynamic range to allow you to have a great depth of field. That's not all; the device can process artifact-free imaging for the best result you need.
Apart from still images, the device can shoot at 4K resolution with high-definition quality. You can also pause the videos to take a snap out of them with an equally high-quality imaging system. Taking scenic shots is incredible experience with this camera. Moreover, you can shoot at 30fps to make sure you don't miss the split-second moments to remember.
Looking through the viewfinder in this device couldn't be more convenient. It offers you a total high-resolution display with 2360K dots to see everything clearly. The OLED live viewfinder lets you explore details on your subject even under bright sunlight. This camera will take your fishing experience to the next level.
Its front and rear dial system allow you to control the shutter and aperture setting pretty easily. This way, you can easily adjust the ISO and white balance in a split second. Having a friendly manual control is important if you want to get excellent photos. Not to mention, all the six buttons are pretty well-placed to set your favorite setting on the go. Let's have a look at some of the key features of this camera.
Technical Details
Sensor: 16 megapixel
Video FPS: 30
Diagonal Angle of View: 75°(W)~29°(T)
OLED live viewfinder resolution: 2360k dot
LCD Swivel: 3 inches
Mic input: 3.5 mm
Final Thoughts
It's always great to have something that fits right into your pocket but allows you to have fantastic image quality at the same time. This one is a perfect combination of both.
3. Best For Panorama: Canon PowerShot G1 X Mark III Digital Camera
The Wi-Fi-enabled Canon PowerShot G1 X Mark III is one of the finest photography devices that Canon introduced recently. This is considered a flagship device in the Premium G-series set up from Canon, making it one of the most sought-after devices for photography geeks.
Despite being a small (Pocket-size, to be exact) device, the G1 X Mark III features a 24.2-megapixel CMOS sensor. This allows you to capture some of the most 'wow' shots you have ever grabbed on a camera device. Its dual pixel autofocus system takes the impression to the next level with its purely automatic face detection system. So, with perfectly blurred background this one you will get lovely bokeh image.
Having an optimum image stabilizing system, the camera performs brilliantly, even if you are zooming up to 3X with the default lens. It also makes sure that you can take the most advantage of the excellent electronic viewfinder, which comes with 2360000 dots for lively and excellent photos. Therefore, getting awesome image quality in low light conditions is not a big deal anymore.
Apart from the fact that it can easily detect motion and doesn't lose its focus, it also offers an excellent panoramic photographic experience. It's as simple as simply pushing down the shutter button and getting a natural view of your surroundings. It will take a bit of practice to get used to it and when you finally able to do that your carp fishing photos is going to turn out superb.
Being designed as an all-weather device, it's super easy to carry it around in the aquatic zone. It can easily endure some of the splashes here and there, but it won't be a good idea to dip it in water in any way. Starting from amateur photographer to advanced photographers this one is a real deal.
Technical Details
Sensor: 24.2 megapixel
Zoom: 3X
Image processor: Digic 7
ISO: 100-25600
Viewfinder: 2360000 dots
Aperture range:  f/2.8 (W) – f/5.6 (T)
Final Thoughts
Its brilliant panoramic image processing system and the HD electronic viewfinder make it one of the best in this price range!
4. Best for Beginners: Nikon D3400 w/AF-P DX NIKKOR 18-55mm f/3.5-5.6G VR
No matter how experienced and expert you are in professional photography; the Nikon D3400 is going to be the best gift you have ever given yourself. This one is a perfect go-to device if you are looking for the best DSLR camera for carp fishing.
First and foremost, the camera comes with a 24.2 MP format CMOS sensor that makes it pretty easy for it to process crisp and high-definition images. We cannot help to mention this cool feature of this camera and that's the digital image stabilization system which allows you to zoom in and out whenever you need it; it won't blur the image in any sense. Therefore, a lovely bokeh image is just one click away.
Apart from still images, the D3400 is an excellent device to video record your memories. With its 1080/60p Full HD video recording system, you can shoot high-quality videos on the go. Thanks to its responsive LCD screen, you can pick the correct and suitable format instantly. Having this luxury is much needed for handheld shooting.
Focusing on your subject has never been easier. The Auto Focus option of the D3400 allows focusing as quickly as possible. Even if you are shooting and capturing images in low-light conditions, the AF system will automatically find your subject.
For beginner photographer who haven't used any DSLR camera before, this one can be a befitting device. It has a guide system that can take you forward with using it. You don't need to go through countless settings and be clueless. Just follow the guide to get started in no time. It has a huge amount of amazon customer review.
Technical Details
Native ISO: 100 25600
Video FPS: 5
Bluetooth Version: 4.1
App Integration: Yes
Video Resolution: 1080/60p
Lens: 18-55mm f/3.5-5.6G
Final Thoughts
The learning curve of this digital camera is simply the straightest you can ask for! It's the best gift for any beginner!
5. Best For View: Pentax K-1 Mark II
If you are looking for the best digital camera for carp fishing, you have to make sure that the device supports you through different days of the year. Whether it's too cold or raining in torrents, you must ensure that your device isn't going to ruin itself. Compact cameras are real blessing when it comes to fishing photography.
That's why the Pentax K-1 Mark II is one of the top choices we have. It comes with an effective all-weather feature that makes it an ideal choice for everyday use. The device can easily withstand water splash and light rain, which helps you keep it functional when you are fishing out there in the water.
Its 36.4-megapixel image production sensors give you the clear and picture-perfect quality that you need. Be it under sunlight and lowlight; the K-1 Mark II lets you shoot the best image of the day. Thanks to its ISO 0819200 sensitivity, low light photography is simply its expertise.
The best part of this camera is its dustproof technique. This will surely be of great help when you are out there in nature. It can easily remove the dust from the surface of the sensors, giving you a spot-free picture every time.
If you are worried about the blurry pictures while you are on a cruise, you can forget about them. The shake reduction technology of the K1- Mark II makes it pretty easy to shoot shake-free images every time you click the shutter.
Technical Details
ISO sensitivity: ISO 919200
Sensor: 36.4 MP
Field view: 100%
Weight: 3 pounds
Monitor Type: Swivel
Final Thoughts
With its impressive 100% field view, capturing images in real-life view is pretty simple and easy on this device.
6. Best For Daily Use: Fujifilm X100V Digital Camera
Let's wrap it up with the most famous brand of the eighties and nineties – Fujifilm! Its X100V digital camera is one of our favorites today, and that's why it's on our top list for the best camera for Carp fishing!
The first thing to notice on this device is its impressive slim design. It's nothing like anything that we used to see in Fujifilm's X100 line. Although it is pretty slim, the device is quite ahead of its time with some of the best features we have seen so far.
It houses a 23mm F2 lens that makes sure you get the best resolution for your picture. Plus, it can also record videos in 4K, which, you know what it means. It gives you a movie-like feeling that you can watch on your 4K devices, straight from the camera.
The X-100V houses an X-processor 4 with X-Trans CMOS 4 sensor. Together with the 26.1 mp sensor, the X-100V gives you an excellent view of what you see with naked eyes. Moreover, you can switch between the 0.52x optical viewfinder and the 3.69M-dot electronic viewfinder with just a snap of a switch – whichever you need.
As for the LCD screen, it can be easily tilted and positioned according to your comfort. No need to bend or tilt your entire body for the best position to shoot your image. Things have just got simpler and easier.
Technical Details
Sensor: 26.1 megapixels
Video Resolution: 2160p
Viewfinder: Hybrid
Weight: 1 pound
Screen size: 3 inches
Optical Zoom: 1X
Final Thoughts
Looking for something lightweight and slim? Fujifilm is going to be the perfect fit for your daily use!
Criteria To Look for Before Buying a Camera For Carp Fishing
If you are looking for the best camera for carp fishing, you need to take certain criteria into consideration. Here are some of the top parameters you must double-check before settling down for a camera.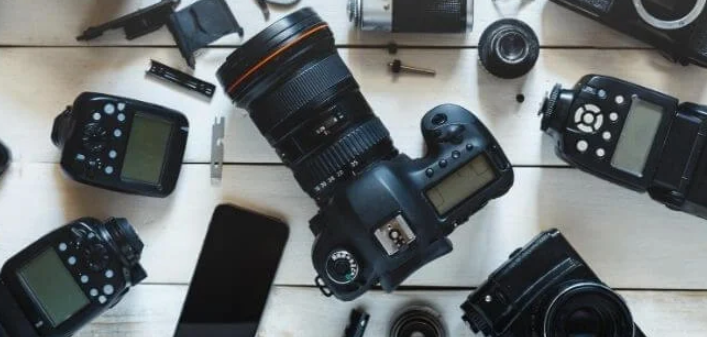 All-Weather
Fishing photography means you are going out in the open water with all the natural risks involved. It may rain, it may be scorching heat, you may even get completely wet by a few water splashes, as well. So, it's best to keep a camera with you that can perform well in all weather, especially can support you with a few encounters with water.
Anti-Shake Feature
Surely, the boat will shake a lot when you are taking a picture. If you don't have a camera with an anti-shaking system, you are bound to get a blurry image. So, make sure that the device has built-in anti-shaking features to prevent this blooper.
Swivel LCD
Having a crystal clear LCD is a blessing in and of itself. However, getting one with a swivel feature is even more exciting. It saves you from moving physically to get a great angle for your photography. Just tilt the LCD according to your position, and you can get a clean look at the view ahead of the lens.
Lightweight
It's best if you can use something that's compact, or at least, lightweight. Heavy cameras can fall off your hands with a slight shaking due to a heavy wave. A lightweight device will stay in your hands for a long time without causing fatigue.
Sensor
Although the notion that 'the more megapixel setup your camera has, the better it is' is not entirely correct, it gives you a primary idea of how well the camera is going to perform. You should look at something that gives you a higher megapixel sensor option at your budgeted price range. Anything from 16 to 32 megapixels should be an ideal choice.
Lowlight Option
In most cases, carp fishing takes hours for a successful catch. If you successfully catch a carp at the end of the day, framing it for good in your camera can be challenging because of low light. So, make sure the white balance and low light image processing system of the camera is well-built and works perfectly to snap some great images during sunset.
Frequently Asked Questions
What lens to use for Carp fishing?
As you will be on a boat with quite a roller coasting ride of sunlight, a 50mm prime lens will be the best choice for it.
Does Car fishing camera need to be waterproof?
It's not absolutely necessary for the camera to be waterproof, but you need to make sure that the camera can endure some water splash once or twice.
What is the best camera for Carp fishing?
There are many options you can choose from. There are smartphones, DSLR, Mirrorless, etc. However, we would recommend getting either a DSLR or a mirrorless camera from the list we have made here.
Is a DSLR better than Mirrorless for Carp fishing photography?
DSLR and Mirrorless fall into the same basket when it comes to the clarity and quality of the image. But a mirrorless camera is an upgrade of a DSLR, so it's going to capture better pictures, for sure.
How do I take myself for Carp fishing?
Hold the carp on both hands and keep the sun behind the photographer. Set the write white balance and take the picture with a smile.
How do you take professional Carp fishing pictures?
Focus first on the fish's eye, then recompose the scene while the shutter is still half compressed. The second rule is called the "rule of thirds"; imagine that the viewfinder is divided equally into two lines horizontally and two lines vertically.
Final Words
Be it a smartphone or a DSLR, the best camera for carp fishing is the one that you find easy to operate and gives you a crystal-clear image. However, the DSLR and the Mirrorless cameras simply outperform the smartphone cameras in such fishing photography.
If you are not interested in searching around, we would recommend you to settle down for the Sony Alpha a6500 Mirrorless Digital Camera for its excellent mirrorless technology and impressive frame rate while recording. Plus, it is also compatible with different lenses for versatile applications.
Happy fishing!